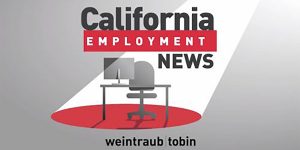 When starting a business, there are many common employment issues to consider. Join Weintraub attorneys Meagan Bainbridge and Ryan Abernethy in Part Two of their Employment Start-Up Kit for Start-Ups series for California Employment News, where they cover employee payroll, HR, and other important things for new businesses to consider to limit liability.
Listen to Part One of this Two-Part Series here.
Watch this episode on the Weintraub YouTube channel here.
Continue reading The Employment Start-Up Kit for Start-Ups – Part 2 →
Podcast: Play in new window | Download