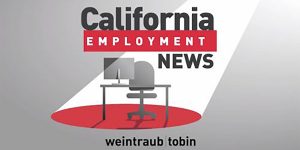 California will see an increase to minimum wage in January 2024 and has already seen some minimum wage increases in individual jurisdictions earlier this year. Nikki Mahmoudi and Tomiwa Aina review these changes in this episode of California Employment News.
Watch this episode on the Weintraub YouTube channel here.
Show Notes:
Nikki:
Hi everyone. Thank you for joining us for this installment of California Employment News, an informative video resource offered by the Labor and Employment Group here at Weintraub Tobin. My name is Nikki Mahmoudi, and I'm an associate in the group. I'm joined today by Tomiwa Aina, another associate in the group. Today we will be discussing the increases in California minimum wages.
So, beginning in 2024, California's minimum wage will increase from $15.50 to $16. And the reason that this is happening is the California Department of Finance explained that the minimum wage needed to rise to account for inflation. However, since local jurisdiction minimum wages are often higher than the state minimum wage, we want to go with that higher number.
In fact, on July 1, 2023, there were increases in the minimum wages in various jurisdictions. Tomiwa, could you tell me more about this?
Tomiwa:
Sure, Nikki. So, some examples of adjustments of the minimum wage rates in certain jurisdictions include Alameda County, where the minimum wage increased from $15.75 to $16.52. In the city of Los Angeles, the minimum wage increased from $16.04 to $16.78. And in Los Angeles County itself, the minimum wage increased from $15.96 to $16.92. In San Francisco, the minimum wage also increased from $16.99 to $18.07.
For more information on updates to minimum wage laws by jurisdictions, please see our Labor and Employment Blog posted on June 7, 2023, which can be found at thelelawblog.com.
And now this is just a reminder. If your employee's rate of pay is based on the minimum wage, these rates will impact any potential meal break or rest break premiums that your employees could be entitled to. So please make sure that your workplace posters relating to California's minimum wage are updated.
Nikki:
Thank you. That does it for today. You can continue to find California Employment News on our blog at thelelawblog.com and wherever you listen to your favorite podcast. We'll see you next time.
Podcast: Play in new window | Download